【Lost Horizon】Shangri-La Joseph Rock Route Trekking 10 Days
| | | | | | |
| --- | --- | --- | --- | --- | --- |
| | | | | | |
| | | | | | |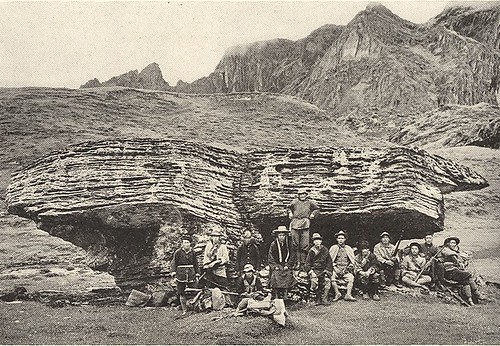 "Rock's rock " -Yading 1928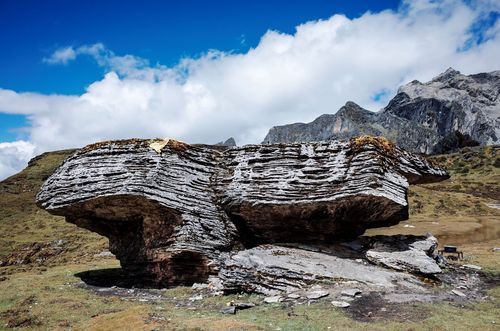 "Rock's rock " -Yading 2019
In 1928, the Austrian-American explorer, Mr. Joseph Rock started from Sichuan Muli and crossed Yading, after completion he published his articles and photographs in the National Geographic magazine for this trip. In 1933, the British writer James Hilton used the articles and photos of Joseph Rock to create a famous novel - Lost Horizon, "Xanadu" described in the novel is called as "Shangri-La".
This trekking route will follow the footsteps of Mr. Joseph Rock, re-take the route from Muli to Yading, walk through the hinterland of Shangri-La region, look for the "Lost Horizon", and get close to three holy snowy mountains in Tibetan Buddhism, finally you will have the experience the remote sights of forest, lakes and holy mountains in the Qinghai-Tibet Plateau.
【HIGHLIGHTS】
1 Shangri-La Experience -explores the mysterious region in the Shangri-La, treks in the holy lakes and holy 3 peaks, have a real experience in "Lost Horizon"
2 Value for Money- covers the core scenic area of Daocheng and Yading, the perfect combination of trekking and travelling
3 Logistics Service- Each member only need carries small bag during trekking and meals and hot drinks are well offered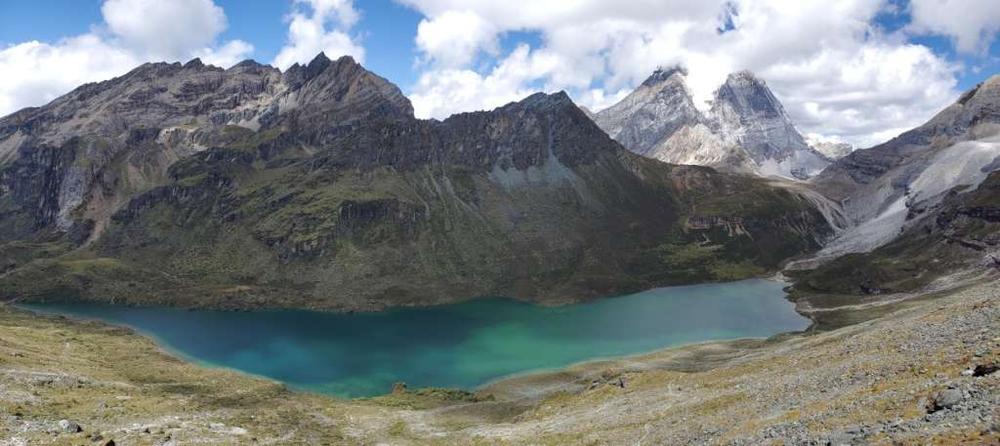 【DATE&PRICE】
From May to October 2020, 9 fixed departure groups, group size 8-25 persons
Day1 arrive in chengdu and Day10 back chengdu, 10 days
5,880CNY/pax in Standard Group, 6,280CNY/pax in Comfortable Group
Additional 500CNY cost applicable to Group7 of national holiday period
Group 1: 2020 05.28—06.06(Mountain Flower Season)
Group 2: 2020 06.17—06.26(Mountain Flower Season)
Group 3: 2020 07.09—07.18
Group 4: 2020 07.30—08.08
Group 5: 2020 08.20—08.29
Group 6: 2020 09.10—09.19
Group 7: 2020 09.28—10.07(National Holiday)
Group 8: 2020.10.10—10.19
Group 9: 2020 10.21—10.30
【ITINERARY】
D1 Chengdu
D2 Chengdu-Muli by transportation
D3 Muli-Dulu Village by transportation
D4 Dulu Village - Buddha Cave
D5 Buddha Cave – Wanhua Pool
D6 Wanhua Pool - Xingguo Cattle Farm
D7 Xingguo Cattle Farm - Snake Lake
D8 Snake Lake - Daocheng
D9 Daocheng – Kangding by transportation
D10 Kangding – Chengdu by transportation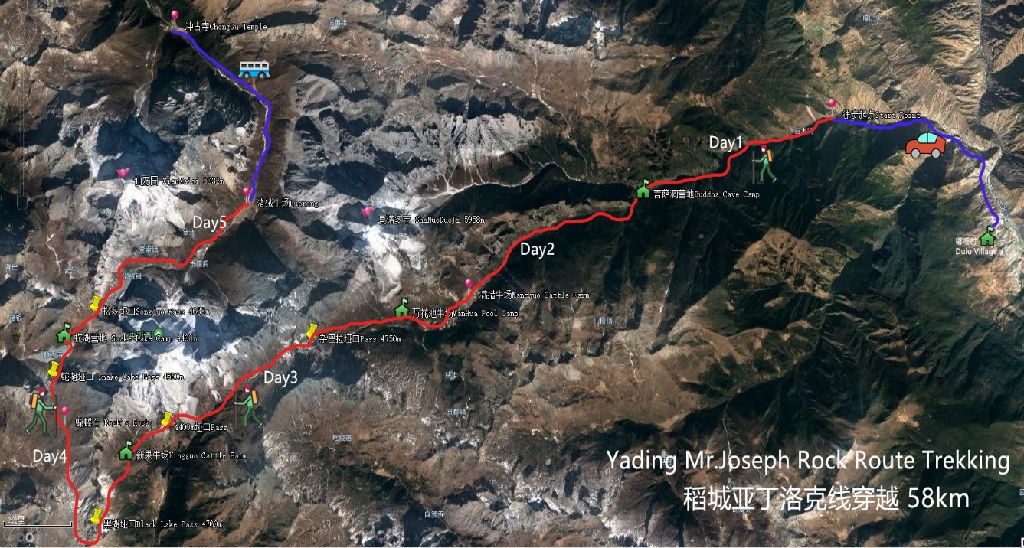 DAY 1 Arrival at Chengdu and Gear&Equipment check
Arrival at Chengdu and Gear&Equipment check, our manager will hold a briefing with members, also sign the agreement. Then you can walk to the famous Kuanzhai Alley area and also enjoy local food such as hot pot, noodle and Dofu budding etc.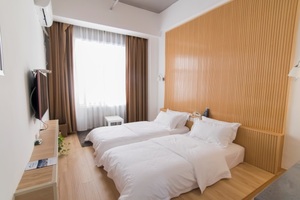 Chengdu Hotel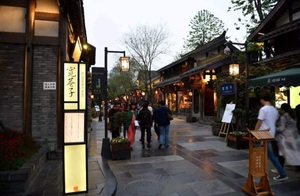 Kuanzhai Alley
Food: Self-responsible
Accommodation: Chengdu Hotel , twin-bed room
Altitude: Chengdu 500m
DAY 2 Chengdu-510KM-Xichang-240KM-Muli
After breakfast, set off and go to Xichang via the beautiful Yaxi Expressway, it passes through tunnels and bridges all the way. After Xichang, we continually go to Muli County and enjoy the beautiful Yalong River along the way. Muli was starting point of Mr. Joseph Rock did in 100 years ago, it is also the last purchasing station in our trekking trip.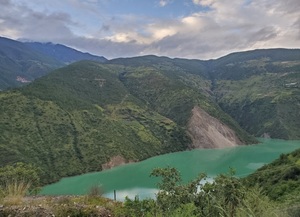 Xiaojin River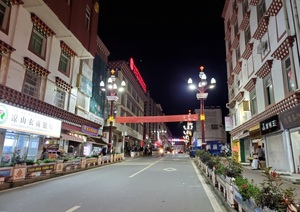 Muli County
Food: Breakfast, Lunch and Dinner
Accommodation: Muli local hotel , twin-bed room
Time: 10 hours by driving
Altitude: Muli 2,265m
DAY 3 Muli-210KM-Shuiluo Town-10KM-Dulu Village
After breakfast, transfer to Shuiluo Town via local bus. The road conditions to Shuilou Town are poor and challenge, arriving at Shuiluo in the afternoon afterwards transferring by local jeep to Dulu Village. The Dulu Village is located in a low altitude and beautiful mountain. It is the last village before entering the mountain.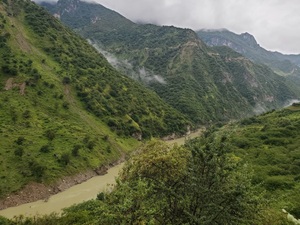 Shuiluo River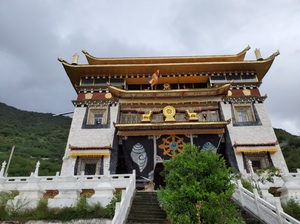 Dulu Temple
Food: Breakfast, Lunch and Dinner
Accommodation: Dulu village home stay or camping
Time: 8 hours by driving
Altitude: Dulu village 2,450m
DAY 4 Dulu Village-7KM- Start Point-10KM- Buddha Cave Camping Site
After breakfast, shortly local jeep trip then starts our trekking trip! Your backpack will be handed over to the housekeeper, you only need to carry your small bag to trek into the mountain. Walking along the Baishui River, then enter the primitive forest, you will meet the towering trees, standing rocks and waterfall, the elevation gradually rises, will arrive at the Buddha Cave Camp by the evening.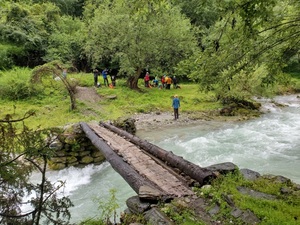 Baishui River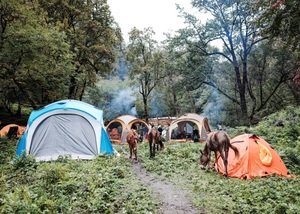 Buddha Cave Camping Site
Food: Breakfast and Dinner
Accommodation: Buddha Cave Camping
Time: 5 hours trekking for 10km
Altitude: Buddha Cave Camping Site 3,400m
DAY 5 Buddha Cave -5KM-Manchuo Cattle Farm-6KM – Wanhua Pool Camping Site
Starting at 8 am in the morning, continue to walk through the primitive forest, straightly across the forest to reach a large beautiful meadow, shortly arrive in Manchuo cattle farm where we can see the holy mountain: ShaNuoDuoJi. Continue to trek for 2 hours and arrive at the 4200M camp under the first mountain pass.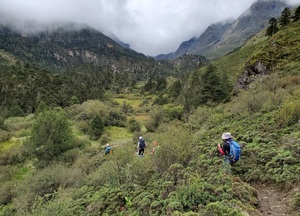 Trekking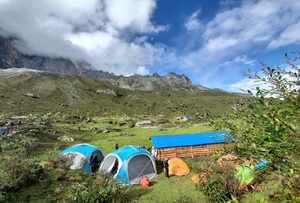 Wanhua Pool Camping Site
Food: Breakfast and Dinner
Accommodation: Wanhua Pool Camping
Time: 6 hours trekking for 11km
Altitude: Wanhua Pool Camping Site 4,200m
DAY 6 Wanhua Pool Camping Site -5KM-Mountain Pass-7KM- Xingguo Cattle Farm
Today's scenery is quite beautiful, but also a challenge day! We will climb up from the southern slope of ShaNuoDuoji Mountain and cross over the 4,683 meter mountain pass. After crossing, will go down to 4,100 meter level then go up a 4,400 meter forest pass, finally down to Xingguo Cattle Farm under the southern slope of YangMaiYong, a famous holy mountain.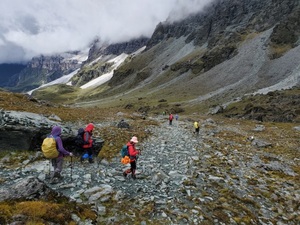 Crossing Mountain Pass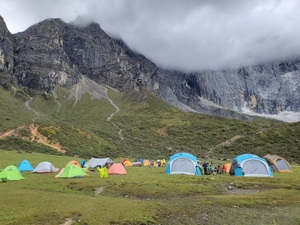 Xingguo Cattle Farm
Food: Breakfast and Dinner
Accommodation: Xingguo Cattel Farm Camping
Time: 7 hours trekking for 12km
Altitude: Xingguo Cattle Farm 4,200m
DAY 7 Xingguo Cattle Farm-7KM-Black Lake-8KM- Snake Lake
Today's scenery is also very beautiful, firstly crossing 4 mountain passes with 4,500-4,760 meters , after the highest 4,760m pass, you will see the Black Lake meanwhile going down and pass by signature Butterfly Stone, go up and go down the Snake Lake mountain pass (4,690meters), finally arrive in Snake Lake, will camp at beautiful lakeside where you can see two holy mountains: YangMaiYong and XianNaiRi.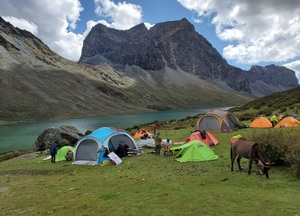 Snake Lake Camping Site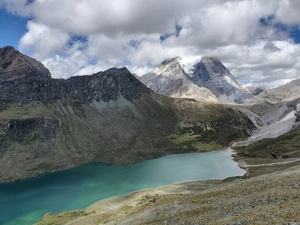 Snake Lake
Food: Breakfast and Dinner
Accommodation: Snake Lake Camping
Time: 8 hours trekking for 15km
Altitude: Snake Lake Camp 4,400m
DAY 8 Snake Lake-3KM-Songduo Pass-2KM-Milk Lake-5KM-Luorong Cattle Farm-88KM(driving)-Daocheng
Departing at 8 o'clock in the morning,will across the Songduo mountain pass at 4760m altitude. There are the flying prayer flags and the large number of tokens on the ground. Thereafter, you will enter the Yading Scenic Area, passing the Milk Lake, the Five-color Lake, go down to the Luorong cattle farm, the trekking is completed now! From there, you can take small tourist bus to Chonggu Temple, then take big tourist bus to leave Yading Scenic Area. Afterwards, all members will be transferred to Daocheng County for overnight stay.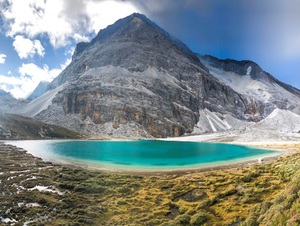 Milk Lake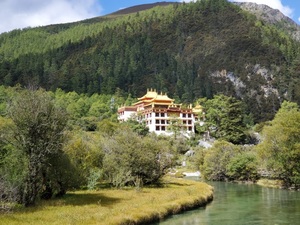 Chonggu Temple
Food: Breakfast and Dinner
Accommodation: Daocheng local hotel, twin-bed room
Time: 4 hours trekking for 10km
Altitude: Daocheng 3,750m
DAY 9 Daocheng-340KM-Xinduqiao-79KM-Kangding
Today you will have a beautiful sightseeing on the bus trip for Daocheng region. You will pass by the red grass land, Haizi Mountain, Litang Town, the beautiful Xinduqiao Town, and climb over the mountain highway pass to Kangding city. You can enjoy hot spring in Kangding.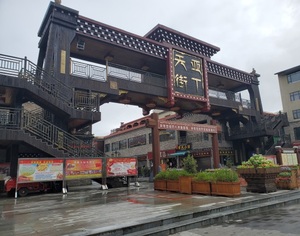 Daocheng County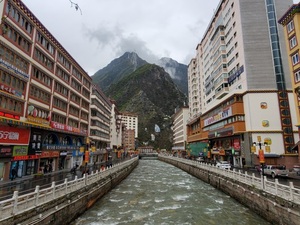 Kangding City
Food: Breakfast, Lunch and Dinner
Accommodation: Kangding local hotel, twin-bed room
Time: 9 hours driving
Altitude: Kangding 2,800m
DAY 10 Kangding-61KM-Luding-240KM-Chengdu
We return to Chengdu from Kangding by Luding Town, Erlang Pass and Yaan Town , arrive in Chengdu normally before 17:00pm. The unstable road conditions in western Sichuan would contribute to the high risk of traffic jams, therefore it is recommended that you make your leaving Chengdu in the next day.
Food: Breakfast and Lunch
Accommodation: Self-managed
Time: 7 hours driving
Altitude: Chengdu 500m
【PRICE INCLUDES】
1 Transportation: all transportations mentioned in the itinerary
2 Trekking permits
3 Accommodation: all accommodations listed in the itinerary
4 Camping charges
5 Camping: trekking tent (200cm*100cm*100cm size) for 2 persons of standard group; or high mountain tent (220cm*190cm*120cm size tent) for 2 persons of comfortable group
6 Catering: 12 Lunch&Dinner and 9 Breakfast as specified in the itinerary. 5 trek lunches are only for comfortable group. The trekking dinner will have 3 dishes with hot drinks such as hot water, coffee and tea. The trekking breakfast will have hot drinks, bread or pancakes, eggs or Ham etc. Please tell us beforehand if you are a vegetarian.
7 Horsing: public and personal equipment carrying during the trek, personal baggage limit 10kg for standard group, 20kg for comfortable group
8 Equipment: dining tents, cooking tents, toilet tents, sleeping pad, tables, chairs, fuel, stoves, cookware, tableware, warm water bottles, solar charging panel, first aid kits, walkie-talkies, satellite phones, emergency oxygen and other consumables
9 Staff: 1 English-speaking trekking guide for 8-10 members
10 Trekking organization fees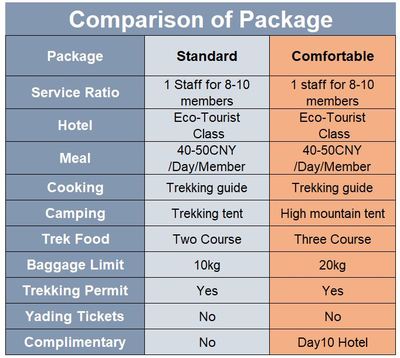 The member of comfortable group is able to enjoy one twin-bed room in Day 10 which is applicable to herself/himself and cannot be exchanged for cash or another date.
【PRICE EXCLUDES】
1 Flight airfare from and to Chengdu,China
2 Visa to china
3 High-altitude trekking insurance
4 Yading ticket, Yading tourist bus and sightseeing car
5 Personal equipment and horse riding
6 5 trek lunches of Day4-Day8(Standard Group)
7 Room fare difference by requesting a single room and a single tent
8 Personal Expenses: Telephone, Internet, Laundry, any Alcoholic beverages
【PERSONAL EQUIPMENT】
Backpack: Backpack 40-60L, small bag 30L
Sleeping bags and clothing: Sleeping bag (comfort rating -5 degrees), Waterproofjacket, Fleece jacket andtrouser, Down jacket, Fleece cap, Waterproof gloves, 2+pairs of socks
Shoes and otheraccessories: Sunglasses, Stick, Thermal mug(0.5-1L), Hiking shoes , Gaiters, Sunscreen (SPF35 and above),Headtorch (with spare battery), Raincoat, waterproof bag for protectionsleeping bag.

【PUBLIC EQUIPMENT】
Canteen tents (400cm*400cm*190cm), tables, chairs, cookware, food, fuel, walkie-talkies, satellite phones, emergency oxygen and medicine. Camping tent and mattress for members.
【REQUIREMENT】
Each member should have prior hiking and camping experience, the high altitude experience would be a plus.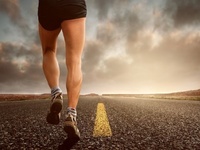 【PAYMENT】
The prepayment 2000CNY should be paid 45 days before DAY 1 for the reservation your place. The remaining payment should be done before the departure of Chengdu. All payments will NOT be refundable after trip starts due to personal reasons.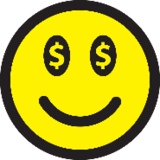 Attention please, if the trekking permit is unable to proceed, of course we would inform you once it happens, you may change to the same departure date of Daocheng-Yading Trekking, you also can cancel the trekking by getting full prepayment refund. Masherbrum doesn't accept any claim for compensation against your decision.
【REGISTRATION】
Inquiry - Application document and qualification check – Prepayment - Trip ready

Contact:
Donald Tang
Tel/Whats-up/We-chat:+86 186 1613 8822
Email:383092369@qq.com
https://www.facebook.com/masherbrumchina/