2019 LENIN PEAK CLIMBING

Duration: 19 days
Date: 2019-July-28
Country: Kyrghyzstan
Accommodation: Hotel + Tent
Minimum Group Size: 6 members
Grade: Hard
Maximum Altitude: 7,134m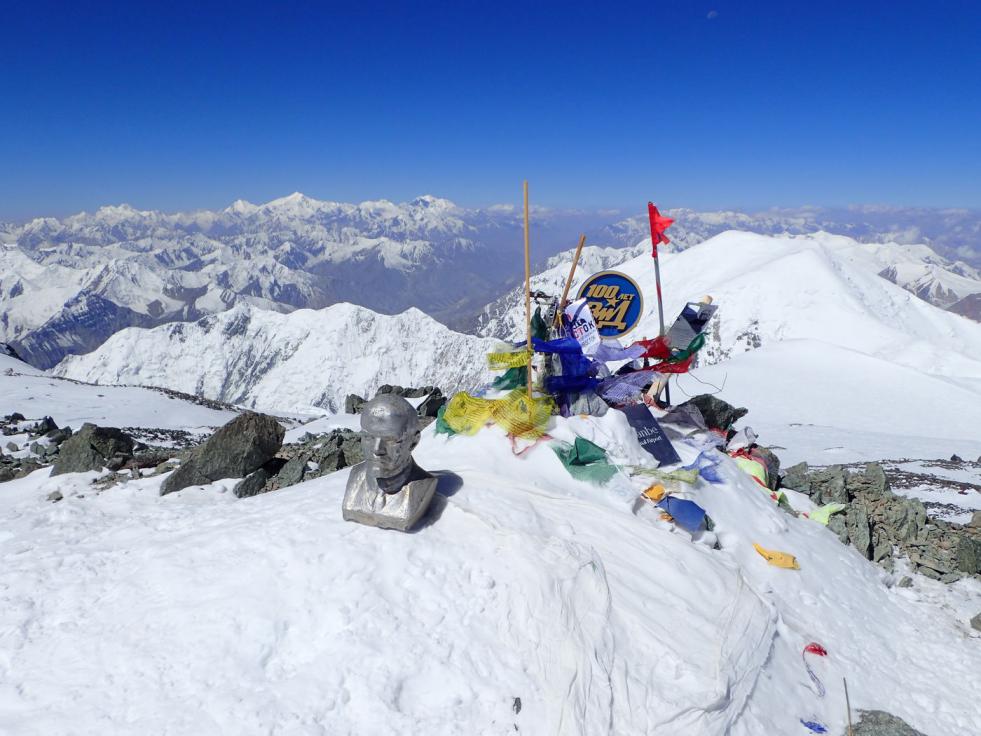 Introduction:
Mt. Lenin Peak (7134m),on the border of Tajikistan and Kyrgyzstan it is considered one of the less technical 7000 m peaks in the world to climb and it has by far the most ascents of any 7000 m or higher peak on Earth, with every year seeing hundreds of mountaineers make their way to the summit. The only contender of being the most popular 7000m mountain is Muztagh Ata ,which has even easier access, is higher and also considered less dangerous than Lenin Peak. The last couple of years it has had even more visitors than its Kyrgyz neighbour, but since the requirement of peak fees were dropped in Kyrgyzstan, Lenin is now back in first place as the most popular 7000m mountain.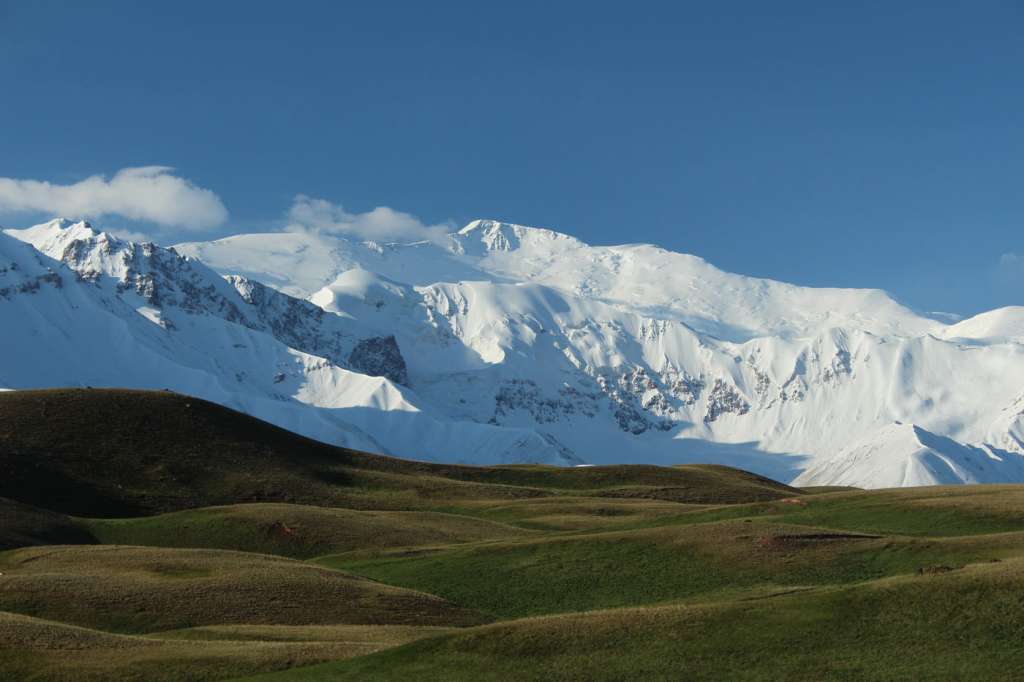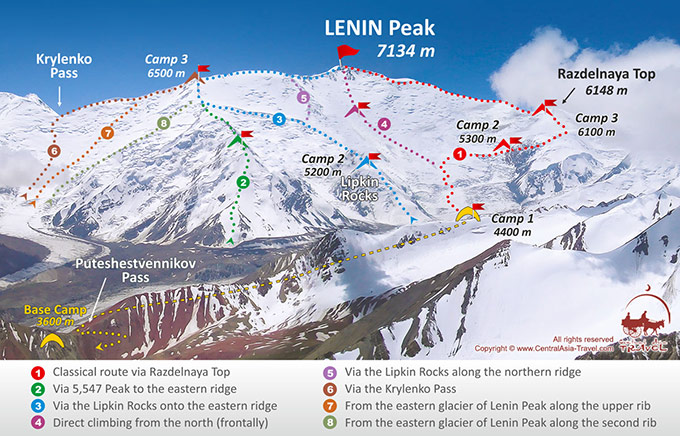 The climbing season of Lenin Peak is from the end of June to the beginning of September and the usual climbing period is about 20 days. Our climbing time is selected from the end of July to the beginning of August, when the weather is most stable. The route is the safest route -1 (the red line in the picture). We will build the base camp BC (3600m) , C1 (4400m), C2 (5300ml) and C3 (6100m).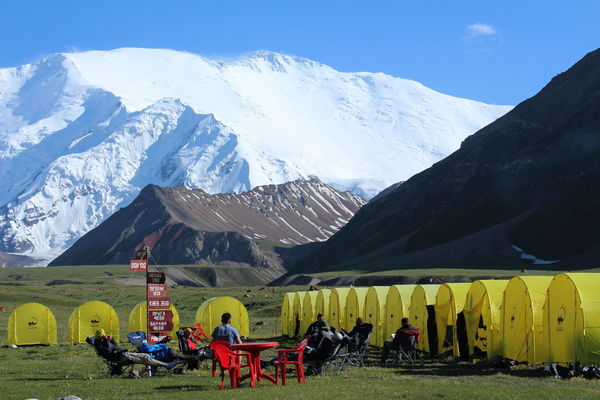 19
days
Minimum
Group size 6
people
Price 18,000
/
pax
*
*Fully inclusive price,please find price details in " Price Includes"
ITINERARY
Day 01 7/28: Arrive in Kashgar, Transfer to hotel, Check equipment, Welcome dinner.
Day 02 7/29: Across Irkeshtam boarder to Base Camp of Lenin Peak.
Day 03 7/30: Get acquainted with the area. Prepare yourself for ascent.
Day 04 7/31: Ascent to Camp 1 (4400 m).
Day 05 8/01: Ascent to Camp 2 (5300 m).
Day 06 8/02: Ascent to Camp 3 (6100 m).
Day 07 8/03: Descent to Camp 1 (4400 m).
Day 08 8/04:Descent to Base Camp (3600 m).
Day 09 8/05: Rest day in Base Camp.
Day 10 8/06: Rest day in Base Camp.
Day 11 8/07: Ascent to Camp 1 (4400 m).
Day 12 8/08: Ascent to Camp 2 (5300 m).
Day 13 8/09: Ascent to Camp 3 (6100 m).
Day 14 8/10: Ascent to the summit of the Lenin Peak (7134 m) and Descent to Camp 3 (6100 m).
Day 15 8/11: Descent to Camp 1 (4400 m).
Day 16 8/12: Descent to Base Camp (3600 m).
Day 17 8/13: Drive from Base Camp to Kashgar via Irkeshtam boarder.
Day 18 8/14: Departure from Kashgar.
Note: please leave extra two days reservation in case of bad weather.
Is it this expedition for you?

The member should have prior 6000m+ Climbing experience and also has a sufficient physical condition.In addition, the member should have hands-on abilities on high altitude.
PRICE INCLUDES
1. Insurance: Travel and high altitude insurance with amount covered 600000CNY.
2. Expedition organization and the costs for the expedition group leader.
3. Hotel Accommodation : 2 night's hotel in Kashgar on bed & breakfast Basis-Twin Bed Room.
4. Welcome Dinner and Summit Cake.
5. The transportation between Kashgar and Lenin Peak Base Camp.
6. All necessary documents arrangement including the border zone permit.
7. High mountain guide's service at 1 guide:3 members.
8. Services in Base Camp and Camp 1 under the tour program :
- Accommodation in tents
- Sauna at Base Camp (3600 m) and hot water shower
- 3 daily hot meals made by professional cooks
- Yurt - companion cabins
- Washstand and toilet usage
- Electricity usage: 220B, 50 Hz
- Storage-yurt usage at BC and C1
- Medical services
9. High-altitude food products.
10. Installed high mountain tents at an altitude of 5300m and 6100m. 11. Cooking equipment for the time of ascent.
12. Satellite Phone, Portable radio station and GPS navigator.
13. Summit certificate.
PRICE EXCLUDES

1. Air Fare: flight airfare (from and to Kashgar).
2. Kyrgyzstan Entry Visa fee.
3. Extra nights accommodation and extra food in Kashgar.
4. Personal Expenses: Telephone, Internet, Laundry, any Alcoholic beverages, Personal Trekking /Climbing Gears.
5. WIFI Internet Service (20$ / 500 Mb).
6. Guide ServiceTips 100$USD per member.
7. Mountain porter at costs one way: BC - C1 (3$ / kg), C1 - C2 (10 $ / kg), C2-C3 (20$/ kg), above C3 (35$ / kg) if need.
8. Extra: Any other services or activities, which are not mentioned in the itinerary.
9. Any other item not listed in "Price Includes"section.
Special Reminder

1.Climbing Concept
The climbing concept in Lenin Peak would be most likely different if compare it in China. The mountain guide is no obligation to provide cooking service as a result the clients should be responsible for their cooking in the C2 and C3, also for carrying their high mountain food or hire the porter to transport the mountain.
2. Food and Drinks
A team of professional cooks are responsible for meals at our Base Camp (3,600 m) and Camp 1 (4,400 m) under Lenin Peak. They are great in cooking a huge variety of incredibly delicious food,The daily menu is elaborate and comprises a large amount of fresh fruit and vegetables, the traditional and European cuisines.
3.Visa
Chinese passport holder may easily apply for an E-visa on the www.evisa.e-gov.kg, the supporting documents are few that only passport, photo and credit card are sufficient and one month single entry at 40$ currently.
4. Risk Reminder
Mt. Lenin Peak (7134m) is considered to be one of the most popular, easily of accessed and hence most frequented summits among 7,000m peaks,but an avalanche triggered by an earthquake caused serious mountain accident in 1990. Every mountaineer who has decided to participate in an expedition to Lenin Peak must realize that an ascent of this Pamir mountain of over 7,000 m in height is an adventure activity and so it poses certain health and life risks. She/he takes full personal responsibility for the decision to participate in this expedition, any act or failure to act during it and all the possible consequences of this decision.
5. Safety Policy
The security system in Lenin Peak includes the medical aiding KIT, a general medical examination by professional doctor before going to an ascent, each participant's activity is monitored at each climbing stage , the personal information registration and on-call emergency rescue team and extremely helicopter rescue etc, however the effectiveness of this system largely requires the compliance of safety policy from each participant, the extreme weather also reduces its value.
Required Equipment

Camping: Sleeping bag (comfort rating -15°C), Trekking boots
Clothing:Waterproof jacket , Waterproof over trousers, Down jacket,Raincoat, Fleece jacket and trouser, 2 underwear, Thermal socks, Waterproof down gloves, Thin gloves, warm hat, sunhat
Bags: Backpack 60 L +, Small bag 30L, Luggage pack 150L(optional)
Drinking: Thermal mug(0.5-1L)
Accessories: Hiking stick, Gaiters, Snow Goggles (spare sunglass), Headtorch with batteries, Washbag, Sun protection,
Technical: Mountain boots (for altitudes 6,000 m and 2/3 layers) , Gaiters, Crampons, 2 Ice screws, Ice axe(Long), Harness, Helmet, ATC Descender, 2 Carabiners
Inquiry - application documents - down payment- trip ready
Registration Deadline: April 10th 2019
The down payment 5000CNY should be made and full payment will be paid by 15 days prior to the start date; the payment refound will not happen due to member personal reason after Day1
Contact: Donald Tang

Tel/Whats-up:+86 186 1613 8822
QQ:383092369
Email:383092369@qq.com